Here's the deal.  We know that prospects are important in baseball.  We know that one of the primary methods of acquiring these prospects is through the amateur draft, and that the guys who are picked early are usually the most likely to succeed in the major leagues, which intuitively makes sense. We know that a team is more likely to succeed in the regular season and make the postseason if they draft well because a large portion of their roster is composed of guys they drafted or guys they acquired in trade using other guys they drafted.  And we also know that many of the prospects, no matter how athletically gifted they seem on the surface, will fail, because baseball is a very difficult sport to master.
I don't think any of that is truly up for debate. What is not so apparent is how some teams are able to take full advantage of their scouting and analysis to cultivate their prospects into solid and sometimes elite baseball players at the major league level while other teams fail.  This is especially important to figure out for fans who are not necessarily trustful of the new Theo Epstein/Jed Hoyer-led Cubs front office and their rebuilding plan just yet.  That is what we (Rice + Roobs) would like to explore in this article.
From Yawkey Way to the Cubs Way
Before Theo Epstein walked into a Starbucks in Chicago one day, there were a number of team presidents and general managers who attempted to get the Cubs on the right track.  Most recently, Andy MacPhail presided over the Cubs (before stepping down in 2006) and had general managers Ed Lynch and Jim Hendry reporting to him and helping to run the team.
During the MacPhail years, the Cubs had 13 drafts and most of them sucked.  Unfortunately, no matter how good the teachers and coaches are in the system, if they do not have the right personnel to work with, it's not going to matter and the talent won't translate to anything usable in the majors.
Alan Trammell can teach me how to hit or field grounders until the Veterans Committee finally votes him into the Hall of Fame (because the writers are idiots, but I digress) and I would still suck at baseball even if I absorbed all the teachings and exercises he threw at me.   The great Joe Posnanski had written a great blog detailing the Cubs' perpetual failure at consistently developing talent.  Punting half a century and then hoping to the baseball gods that you get a Mark Grace and a Kerry Wood here or there isn't the best way to build a team, and the Cubs have suffered for it.
So drafting and acquiring talent is paramount.
Of the players that didn't suck, including Kerry Wood, Mark Prior and Corey Patterson, the Cubs had two injury-struck stars-in-the-making and one flameout.
It is entirely possible that the coaching staff didn't watch their products closely enough to minimize the risk of injury, and with Corey Patterson, he was just unlucky when he got injured and lost a lot of development time.
In 2001, while Sammy Sosa was continuing to smack homers around and making Cubs fans feel better about themselves at the major league level, the Iowa Cubs weren't doing so hot in what was supposed to be a hitters league.
If you take a look at their offensive leaderboard, sorting by OPS, and then look at the ages of the guys who are actually OPSing over .800, you see that they are all older dudes (which means they're in the mold of Micah Hoffpauir or former Cubs All-Star Bryan LaHair).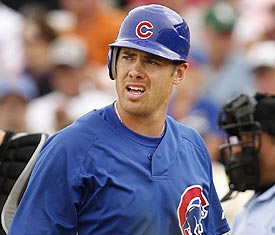 There are some familiar names in there, including Ross Gload and Bill Mueller (yes, that one).  You also notice that very few of them have a respectable on-base percentage, and it takes a while down before you see former hot-shot prospects Hee-Seop Choi and Corey Patterson.
Choi and Patterson had youth on their side so that's their main excuse as they're supposed to struggle as they're learning the game.  It's a bit troubling to look back now and see how poor the system was at producing a player who could make an impact at the major league level at a young age and play through his prime as a major leaguer.
The interesting thing about this list is that the gentleman with the third best OPS (not taking into account number of plate appearances) is Bill Mueller.
Mueller was an integral part of the 2004 World Series champion Red Sox, but was rehabbing in Iowa at the time.  He was traded in September of 2002 to the Giants for some reliever I've never heard of and will never think about again, but then signed in early 2003 with the Red Sox as one of Theo Epstein's first free agents as Boston GM.  Mueller finished his career with a line of .291/.373/.425, and fit the meme that a Theo/"Moneyball" offense uses in having lots of guys who get on base at a high clip.
Previously we blogged about Theo's legacy in context.  If we look at his two championship teams, you notice a bit of a trend.  The 2004 team was built off mostly veterans and the 2007 team was made in Theo's image, so to speak.  It's much more apparent with the offense (high OBP between both clubs) than with the pitching, but even with the pitchers you see that they consistently control the strike zone with very few walks from the staff aces such as Curt Schilling in both years and Josh Beckett in 2007.
Youkilis was on both teams, as was David Ortiz, and Dustin Pedroia was the rookie of the year in 2007.  Pedroia's skillset wasn't a fluke either as his career OBP is .369 (so far).  Jed Hoyer was also part of the success during this era.
We see it all coming together nicely with Theo's Red Sox and with one of the best Cubs teams we'll ever see in our lifetimes in the 2008 NL Central champions.  The teams had the qualities we previously described with offense (tough plate appearances, great on-base ability, solid contact) and pitching (controlling the strike zone).  More often than not that will translate to team success.  Unfortunately, whereas this was the norm for the Epstein Sawx, it was more of an exception for the Hendry Cubs.
What we are looking for is whether the Epstein/Hoyer tandem can bring their philosophies over to the Cubs.  We know they are excellent at acquiring impact talent, and a lot of that talent has been translatable to the majors either directly (Pedroia, Jacoby Ellsbury) or indirectly (trading Hanley Ramirez and Anibal Sanchez for Josh Beckett and Mike Lowell).
The talent is but one piece of the puzzle as the Red Sox had built an entire system to ensure that said talent would be developed properly to maximize their production in the majors, or to swindle some other general manager into giving up outside talent that could be used however they saw fit.
A Scout's Dream
As a preamble, there are various skills that a baseball player needs to some extent to contribute to his team's goal of scoring runs and preventing the opponent from scoring runs.  In no particular order:
Good pitching (control, strikeouts, limit damage)
Contact hitting
Power hitting
Getting on base
Good baserunning (includes stolen bases but mostly involves not doing stupid crap — I'm looking at YOU Ryan Theriot)
Good defense (arm, range, hands)
These are the qualities that a scout looks for before he bothers to send videotape back to the parent club (thanks to Roobs for the link).
Every player is different, and unless they perfect human cloning not every player is going to be able to master the Ted Williams style of pitch recognition and baseball devastation. It is exceedingly rare to find a player of that caliber where you look at him and say, "THAT is a Hall of Famer."
What the goal of the team should be is, once the prospect with as-yet-unlimited potential is acquired, to cultivate him as one would with a potted plant; give them the resources and tools they need to grow healthily to the extent of the organization's ability and let nature take its course. It is impossible to find that one pitcher who will strike everyone out (or at least always throws a strike), never walks anyone and generates weak contact all the time–and THEN, still fields his position well (lulz @ Matt Garza).
It is equally impossible to find the position player who is superb at defense and never makes an error, always gets solid contact on the baseball, and will never strike out. Scouts are highly unlikely to find that one gem who encompasses all those abilities, but baseball is a game of exploiting weaknesses anyway.
What the team needs to do is minimize those weaknesses after their identification while maximizing the strengths of each individual player.
That's where player development comes in.  Different organizations have different philosophies on how best to develop their players, but the general ideas are the same; get the players who can get on base, who won't make stupid outs while on base, and who will pitch well enough and defend well enough so you can make sure the other team scores less than you.
In the next blog we will explore how various teams successfully cultivated their prospects into productive MLB players.  Subsequently, we will try to piece together how Theo and Jed's Boston Red Sox developed their players and how they may transfer these philosophies (along with some new ones) to our Cubs.