The Cubs beat the White Sox on Friday by a touchdown.  Luis Valbuena decided he didn't like Sox pitching…
As an added bonus, we get to hear Hawk Harrelson be sorta sad.  Chris Rusin pitched well, and Mike Olt got on base three times as the DH.
In other Cubs news, Javier Baez had a minor foot injury (right heel contusion) after legging out an infield single, but he should be okay.  Starlin Castro really wants to get back into games and is feeling more comfortable, but we'll see whether he has enough games and work under his belt before the season opener.  He'll get some at-bats on Saturday in minor league camp to shake out the cobwebs, with baserunning to come later according to Carrie Muskat.
A couple days ago Trevor Gretzky was traded to the Angels for Mike Scioscia's kid, which I took to be the Cubs doing Trevor a huge favor since there was little chance he was going to break through several layers of impact players to ever play at Wrigley Field.  Matt Scioscia kinda sucks at baseball so there was no other logical reason I could think of to do this.  To his credit, Trevor tweeted this to thank the Cubs:
Big Thanks to the great people in the Chicago Cubs organization for helping me along the road, excited to get to work with the Angels!

— Trevor Gretzky (@TrevorGretzky) March 20, 2014
Very nice.  I was a big fan of his dad, too.
In actual baseball news (like games that matter), the Arizona Diamondbacks and Los Angeles Dodgers opened the 2014 MLB season down under in Sydney, Australia.  They'll get a week after their two-game set to fly home and readjust to North American time zones.  The globalization of MLB is awesome, but for the players it's got to be hell after flying halfway across the world and completely screwing up their internal chronometers.
Clayton Kershaw outdueled Wade Miley in the first game.  I was sort of awake since the boy was feeling ill, and the game was actually delayed for a few due to rain (would have been a public relations disaster, in my opinion, if it had been rained out since there were no plans to play a double header to make it up the next day).  First pitch wasn't until 4 AM Central so I didn't get to see the Dodgers win 3-1, but lots of folks drank coffee or took some meth to stay up all morning to listen to Vin Scully and watch Mark Trumbo do this: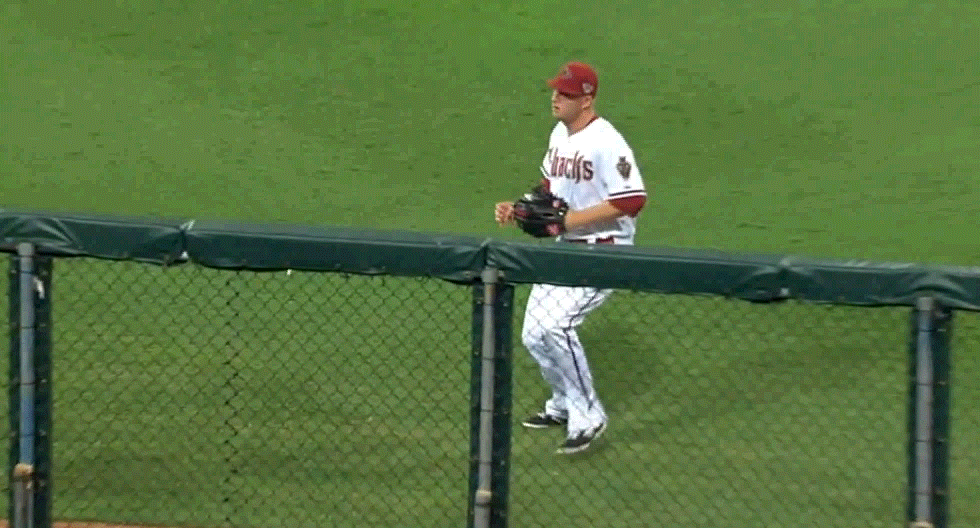 Hey, at least it was gritty.
Saturday's game is at Cubs Park in Mesa as the Cubs host the Cincinnati Reds.  Game time is 3:05 PM Central and the game will be broadcast on WGN TV and radio.
#Cubs lineup vs #Reds Barney 2B, Ruggiano LF, Riz 1B, Olt 3B, Schierholtz RF, Castillo C, Sweeney CF, Murphy SS, EJackson P

— Carrie Muskat (@CarrieMuskat) March 22, 2014
Keep up with our countdown lineup as we head toward Opening Day…
Role Players
In baseball, not every player gets to be an All-Star or Hall of Famer.  Most players are sort of expendable, which is why rosters often have a lot of turnover, but here and there you'll find a nice role player who proves useful in the right amounts.
The role player that comes to mind is Reed Johnson for the Cubs.  In two stints with Chicago, including the 2008 division winners, Reed had an above-average offensive production as primarily a lefty-masher.  He also made some pretty spectacular plays, including robbing Prince Fielder of a grand slam.
Of course Cubs fans fell in love with Reed Johnson, not that there's anything wrong with that. He played hard and gave maximum effort to overcome his relative mediocrity, and fans applaud effort.  So it's no surprise that there were mini-revolts when the Cubs let him go in free agency, then rejoiced when he re-signed, then revolted again when he was trade to the Braves in the package that returned Arodys Vizcaino.  See, the thing with role players is that they have a short shelf life, and you usually want to have them go off into the sunset before they start to suck again.
Similarly, players like former Cubs legend Koyie Hill were celebrated because of their efforts on the field despite being…well, just bad at baseball.  Hill did an admirable job backing up Geovany Soto while Soto was stoned and fat, but while he had a higher batting average, he didn't have Soto's power.  Even though he played something like 25 straight games at catcher while Soto was injured, Koyie Hill spent most of his Cubs career (and MLB career for that matter) as a below-replacement player.  This means that his team would have been better off not playing Koyie Hill, though the fact that he played meant that the other options were worse.  Still, you have to have a backup catcher.  It's too bad he couldn't be more like Henry Blanco…though now that I think about it, Hank White wasn't all that good either, which was why he was the backup.
A role guy that I liked was Daryle Ward.  I just remember him as the primary lefty bench bat for Lou Piniella's 2008 team.  He'd get on somehow and then be lifted for a pinch runner (usually Jason Marquis, it seemed).  Every now and then he'd hit an exciting home run.  But considering that Carlos Zambrano hit .337 that year and matched Ward's homer production in fewer plate appearances, it's no wonder that 2008 was Ward's last year in the majors.
It's always fun to watch Cubs fans react with the news of minor signings of backups and depth as if they're supposed to be more than they should be.  Most players aren't going to be superstars, but if you take a broad view, you can find a use for those guys somehow.  Just know that they're replaceable and it's not the end of the world when they leave the Cubs.
9 more days!