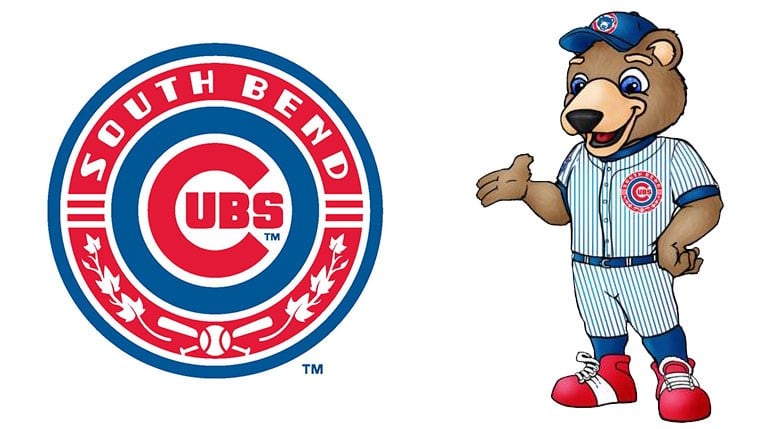 Gone are Gleyber Torres, Ian Happ and Cael Brockmeyer, off to Myrtle Beach with its substantially warmer weather. 62 and sunny definitely beats 29 with snow flurries.
Hey @Pelicanbaseball and @smokiesbaseball … Please send sunshine stat!! #CubsFamily #Cubs pic.twitter.com/BQFCgi4duN

— South Bend Cubs (@SBCubs) April 2, 2016
Despite the questionable baseball weather, the South Bend Cubs announced their 2016 Opening Day roster in anticipation of Thursday's first game.  You will find a few familiar names. Jimmy Gonzalez returns as Manager but with a new staff. The new pitching coach is David Rosario, hitting coach is Guillermo Martinez and Ricardo Medina is Gonzalez's new assistant coach. Also returning from last year's team are: OF Daniel Spingola (@daniel_spingola), IF Andrew Ely (@andrew_ely41), IF Bryant Flete, IF Matt Rose (@Matt_Rose_5), P James Norwood (@Sir_KingJames) and P Michael Wagner.
The big names coming to South Bend include:
Eloy Jimenez (@Lamantha21) – the 19 year old outfielder from Santo Domingo, Dominican Republic will wear #27 for the SB Cubs. At 6′ 4″, 205 pounds, Jimenez bats and throws right handed and is the 9th best prospect according to Baseball America. Last year with the Eugene Emeralds, Jimenez batted .284 with a OBP of .328.
Eddy Julio Martinez – from Cuba, Martinez is a 21 year old outfielder who stands 6′ 1″ and 195 pounds. He is also a righty and will wear #15. Martinez is MLB.com's top international prospect.
Donnie Dewees (@DonnieDewees) – another addition to what should be a bad-ass outfield is Dewees who hails from Florida. The 22 year old is changing numbers, from #6 in Eugene to #16 in South Bend. Dewees is a lefty and has put 20 pounds on to his 5′ 11″ frame since this time last year. Dewees was a 2nd round pick in the 2015 draft.
Excited to start my first full season of pro ball with the @SBCubs

— Donnie BSB (@DonnieDewees) April 2, 2016
The outfielders joining Jimenez, Martinez and Dewees are Daniel Spingola and Jose Paniagua.
It's not going to get much better than watching Eloy Jimenez, Eddy Julio Martinez, and Donnie Dewees in the OF for @SBCubs

— Jordan Miller (@Cubs_Prospects) April 4, 2016
Excited to play for the @SBCubs this year! It's going to be a good one ⚾️

— Tyler Alamo ⚾ (@TylerAlamo_) April 2, 2016
The SB Cubs will have 7 infielders: first basemen Matt Rose and Tyler Alamo (@TylerAlamo_); third baseman Adonis Paula; and slew of second baseman – Andrew Ely, Bryant Flete, PJ Higgins and Carlos Sepulveda.  Though starting on the 7 day DL, Adonis Paula has the early lead on favorite name of my 12 year old daughter (last year's fave was Gioskar Amaya). Ian Rice is the team's lone listed catcher.
Spring training is complete. Headed to @SBCubs tomorrow! Can't wait!

— Casey Bloomquist (@Casey_bloomy) April 4, 2016
South Bend's pitchers include: Adbert Alzolay, Casey Bloomquist, Craig Brooks, former Hoosier Scott Effross, Greyfer Eregua, Scott Frazier, Ryan Kellogg, Preston Morrison, James Norwood, Carson Sands, Justin Steele, Kyle Twomey, Michael Wagner and John Williamson.
Carson Sands (@southpawsands) was a 4th round pick in the 2014 draft. In Eugene last year, he posted a 3.92 ERA in 57 innings. Justin Steele (@J_Steele21), a 5th round pick in 2014 draft, was also in Eugene last year. In 40.2 innings, his ERA was 2.66.
First Spring Training officially in the books. Can't wait to get back to the beautiful state of Indiana and start competing for the @SBCubs.

— Scott Effross (@sefrosty32) April 3, 2016
Twitter handles not previous mentioned include: Brooks @crbrook22; Frazier @ScottFrazier44; Kellogg @ RyanKellogg49; Morrison @jpmorrison18; Twomey @Ky2me; and Williamson @johnny_beisbol8.
I'll have updates on recent renovations as well as the general ball park experience soon. Here's to another great year of South Bend Cubs baseball!
Please subscribe to our blogs (info here) and follow us on Facebook and Twitter!